The hotel is built with natural materials that are not found in other hotels. The concept of "slowly getting better with age. We offer guest rooms that provide a more on-demand stay, without being bound by rules, according to the style of those staying at the hotel.
Essence of Kyoto
The essence of Kyoto's atmosphere is captured in the design of the hotel, which is the essence of pure Japanese architectural techniques and the breath of nature.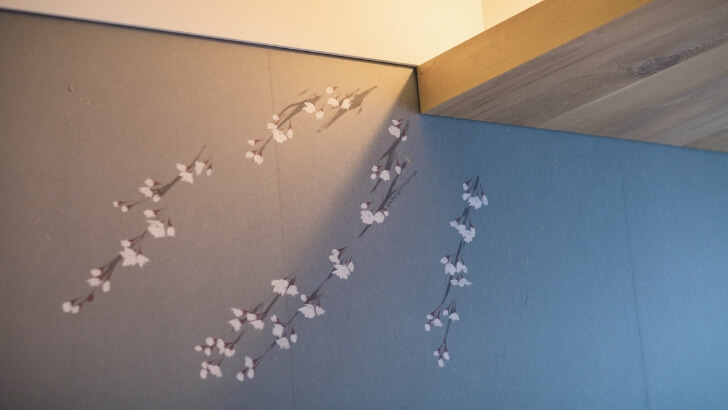 The wall paintings are by Japanese painter Yasunori Fukui. The paintings of flowers and trees with a uniquely Japanese flavor, such as cherry blossoms and pine trees, add a sense of peacefulness to the rooms. The paintings are made with homemade paints made from soil and stones, and are truly born from nature.
Other 'Essence of Kyoto' is sprinkled throughout, such as the tiles with shimmering surfaces and the wicker-woven headboard, depending on the size and type of room.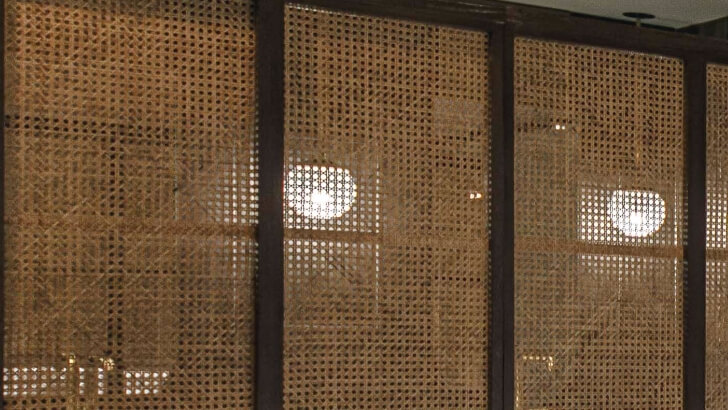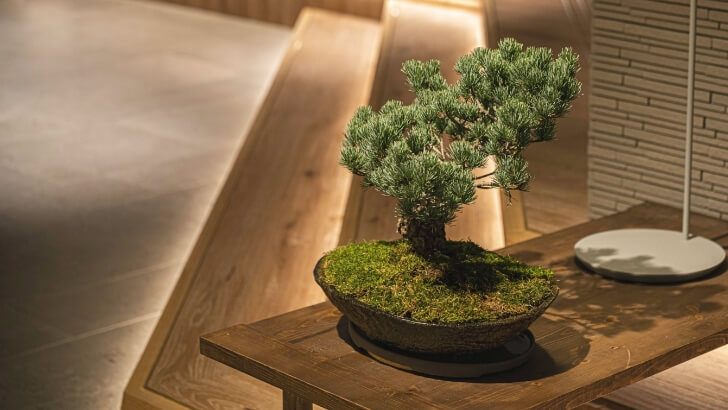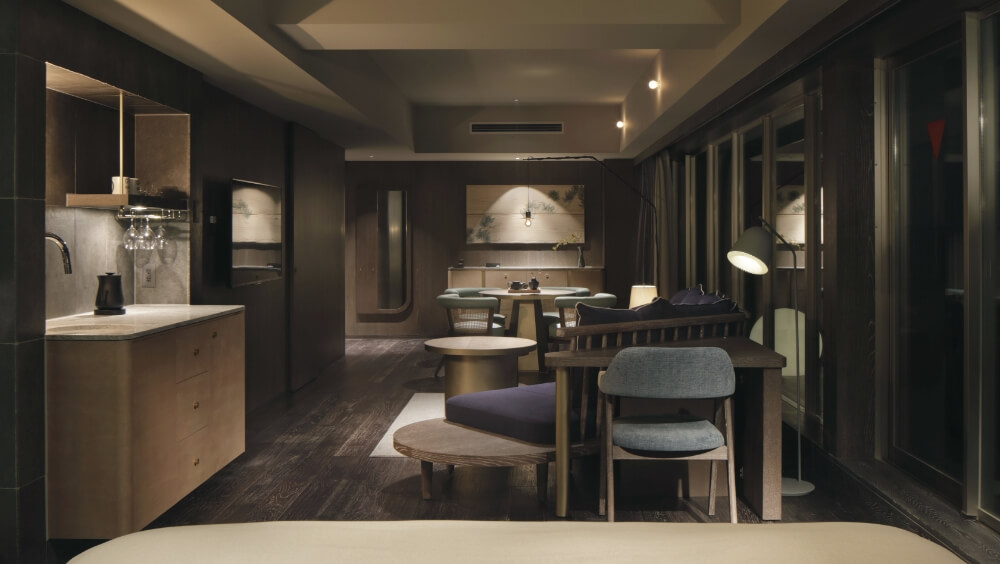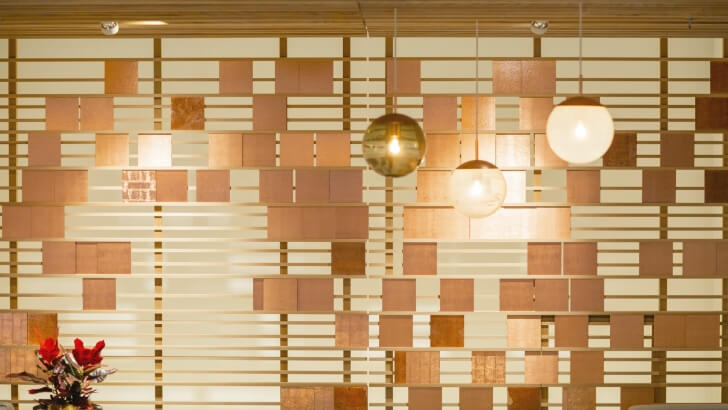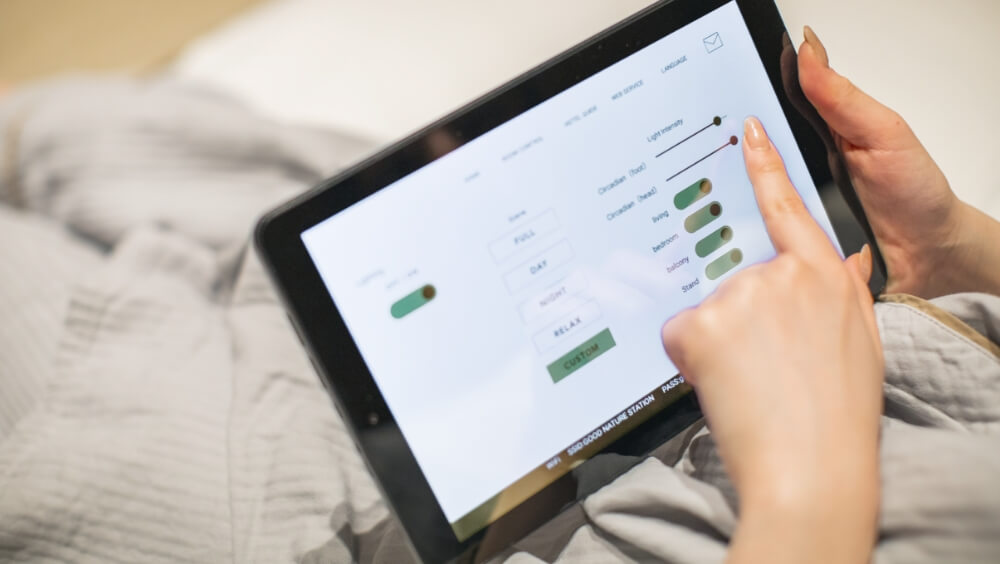 Circadian Light.
A proprietary, comfortable-sleep lighting system is installed in all rooms (patent pending).
We help you sleep and wake up comfortably.
Suite
Spend luxury time in an open-plan suite with a terrace.
Superior
A space to cherish the moments with the person you love.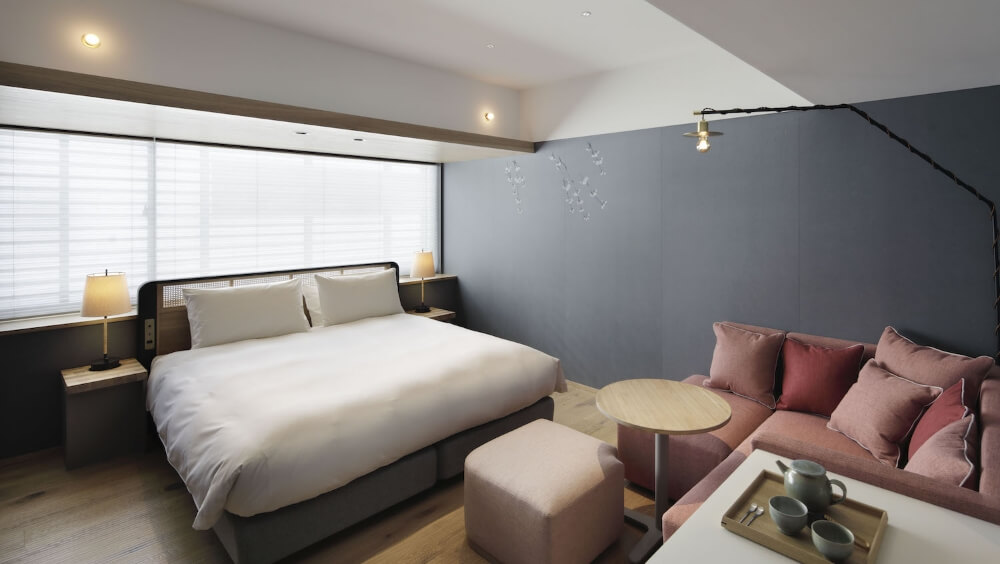 Superior Twin/Double
28~35m2 / 301~377ft2 / Sleep up to 2 or 3
Special room
Concept rooms for a special hotel stay
The Ideal Number of Guests per Room
Spacious 28-90 sq. m. rooms, decorated in natural wood with the essence of Kyoto, create a comfortable space for multiple guests to stay.
In addition, we welcome our guests with carefully selected amenities and welcome sweets.
Room Category
Room Type
Size
1-2 guests
3 guests
4 guests
Bed Configuration
Suite
The Good Nature Suite
90m2 / 969ft2
○
One 180 cm x 200 cm bed
HIGASHIYAMA Terrace Suite
68m2 / 732ft2
○
One 180 cm x 200 cm bed
KAWARAMACHI Terrace Suite
53m2 / 571ft2
○
Two 120cm × 200cm beds
Deluxe
Deluxe Grand Twin
52m2 / 560ft2
○
○
○
Two 120cm × 200cm beds
(An extra bed and sofa bed also available)
Garden View Terrace
33~36m2 / 355~388ft2
○
Two 120 cm x 200 cm beds or
One 180 cm x 200 cm bed
Deluxe Terrace Twin
45m2 / 484ft2
○
Two 120cm × 200cm beds
Deluxe Corner Twin
42~49m2 / 452~527ft2
○
○
Two 120 cm x 200 cm beds (additional bed available)
Deluxe Twin
35~48m2 / 377~517ft2
○
Two 120 cm x 200 cm beds
Superior
Superior Twin/Double
28~35m2 / 301~377ft2
○
○
Two 120cm × 200cm beds or
One 180cm × 200cm bed
(additional bed available)
Special room
Meditation Room
49m2 / 527ft2
○
One 180 cm x 200 cm bed
Sauna ROOM
36m2 / 388ft2
○
Two 120cm × 200 beds
Choju Giga Room by Yokke Pokke
31m2 / 334ft2
○
Two 120cm × 200 beds
Suite
Room Type
Size
1-2 guests
3 guests
4 guests
Bed Configuration
The Good Nature Suite
90m2 / 969ft2
○
One 180 cm x 200 cm bed
HIGASHIYAMA Terrace Suite
68m2 / 732ft2
○
One 180 cm x 200 cm bed
KAWARAMACHI Terrace Suite
53m2 / 571ft2
○
Two 120cm × 200cm beds
Deluxe
Room Type
Size
1-2 guests
3 guests
4 guests
Bed Configuration
Deluxe Grand Twin
52m2 / 560ft2
○
○
○
Two 120cm × 200cm beds
(An extra bed and sofa bed also available)
Garden View Terrace
33~36m2 / 355~388ft2
○
Two 120 cm x 200 cm beds or
One 180 cm x 200 cm bed
Deluxe Terrace Twin
45m2 / 484ft2
○
Two 120cm × 200cm beds
Deluxe Corner Twin
42~49m2 / 452~527ft2
○
○
Two 120 cm x 200 cm beds (additional bed available)
Deluxe Twin
35~48m2 / 377~517ft2
○
Two 120 cm x 200 cm beds
Superior
Room Type
Size
1-2 guests
3 guests
4 guests
Bed Configuration
Superior Twin/Double
28~35m2 / 301~377ft2
○
○
Two 120cm × 200cm beds or
One 180cm × 200cm bed
(additional bed available)
Special room
Room Type
Size
1-2 guests
3 guests
4 guests
Bed Configuration
Meditation Room
49m2 / 527ft2
○
One 180 cm x 200 cm bed
Sauna ROOM
36m2 / 388ft2
○
Two 120cm × 200 beds
Choju Giga Room by Yokke Pokke
31m2 / 334ft2
○
Two 120cm × 200 beds
Recommend